Your professional data studio for Microsoft Azure Cosmos DB
Alpaqa Studio for Cosmos DB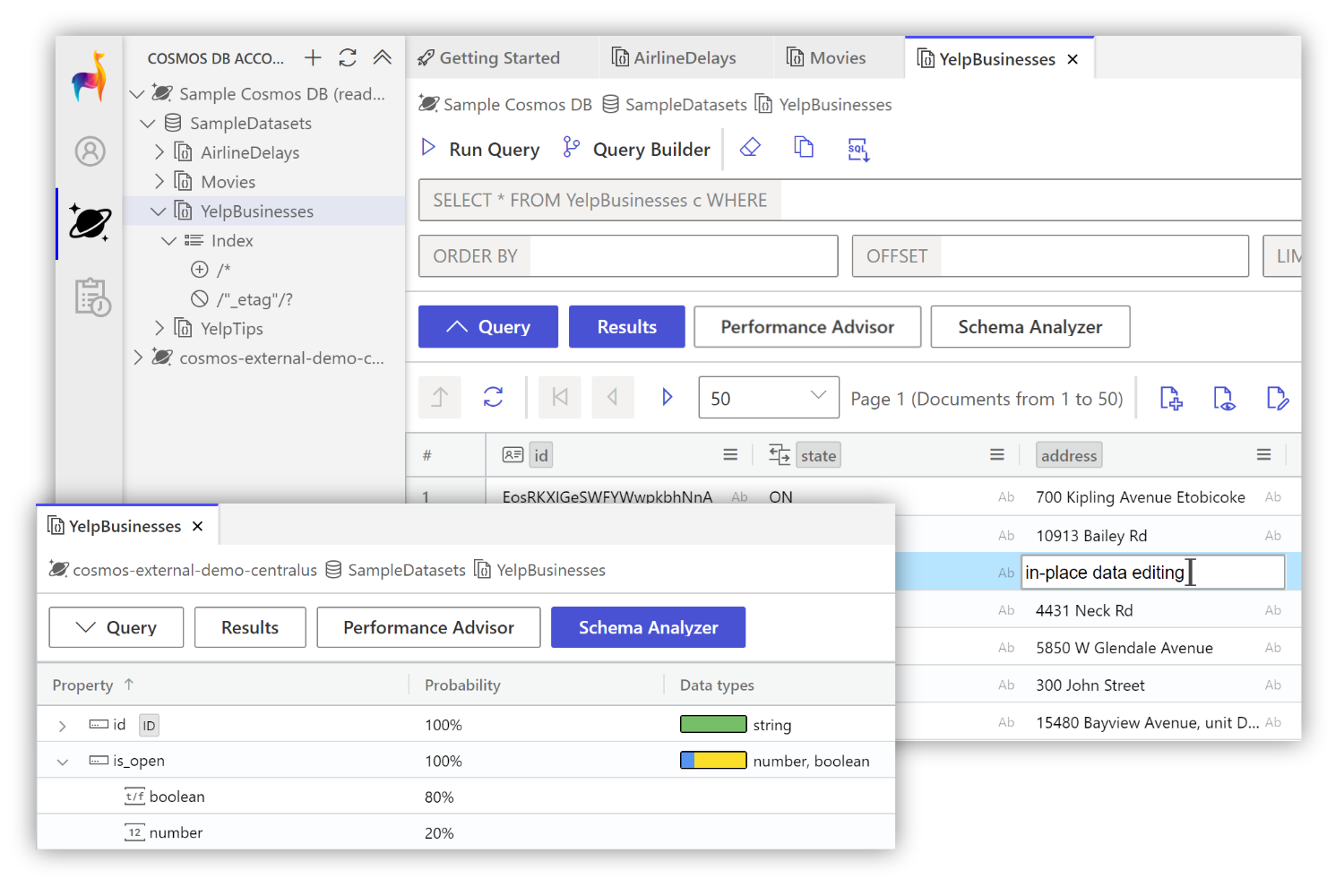 Your professional data studio for Microsoft Azure Cosmos&nbspDB
Alpaqa Studio for Cosmos DB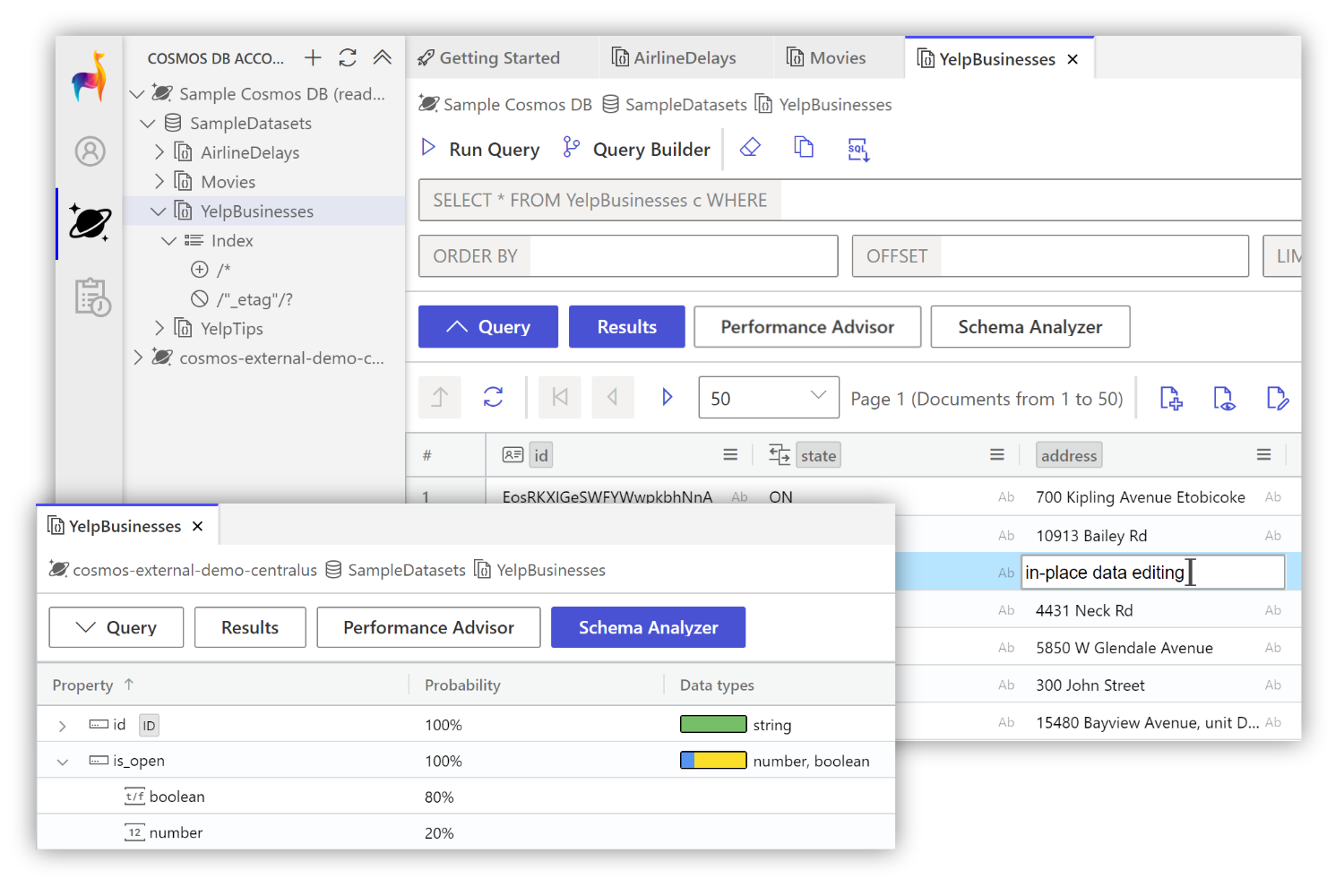 How Will Alpaqa Studio for Cosmos DB Save Us Time?
We bring together the key tools for working with Cosmos DB faster, smarter and more reliably.
Find out more about Alpaqa Studio for Cosmos DB below and start your trial now to try it out for real.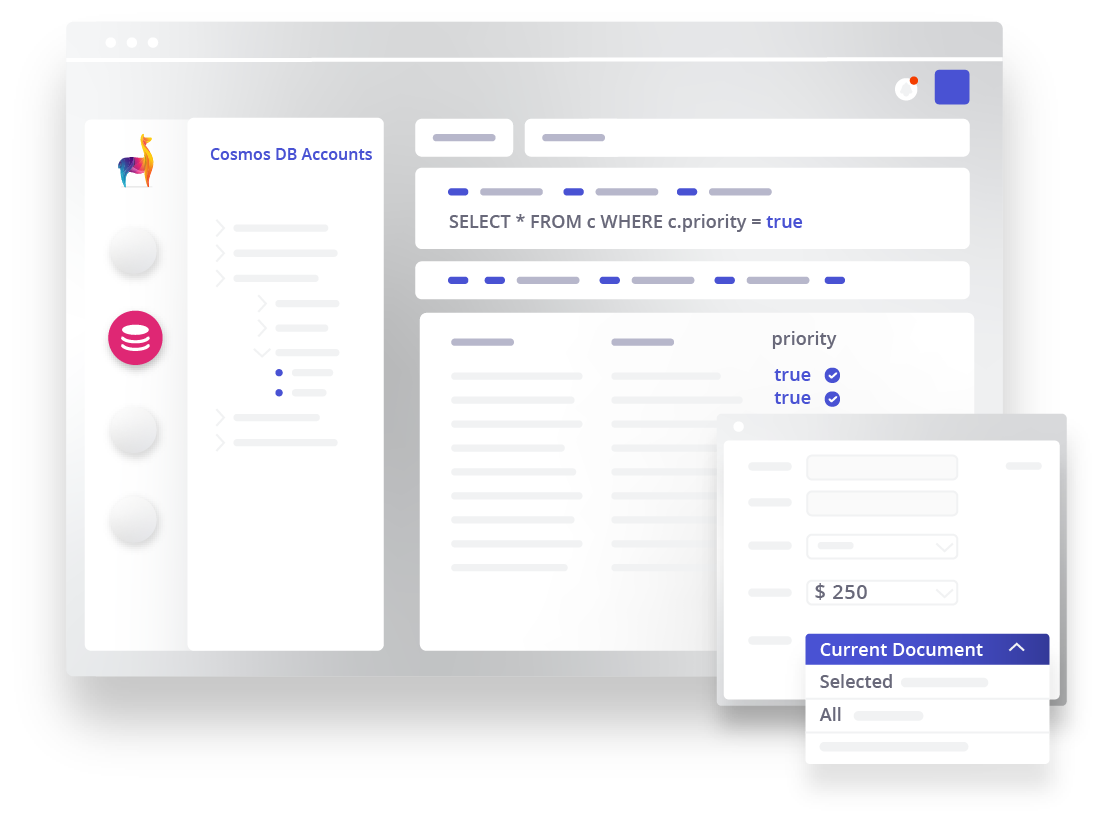 Query and edit data faster
Alpaqa Studio for Cosmos DB helps you query and edit your data with ease.
Connect to Cosmos DB accounts, databases and containers
Query and page through Cosmos DB containers
Use Table, Tree, and JSON View to explore your Cosmos DB documents and containers
Edit data in-place everywhere
Easily add new fields or update the existing ones
Discover field frequencies and data type distributions in your documents and containers
Alpaqa Studio users have requested the features listed below.

Join us today and help plan the roadmap for Alpaqa Studio for Cosmos DB so it meets your needs.
Import and export with ease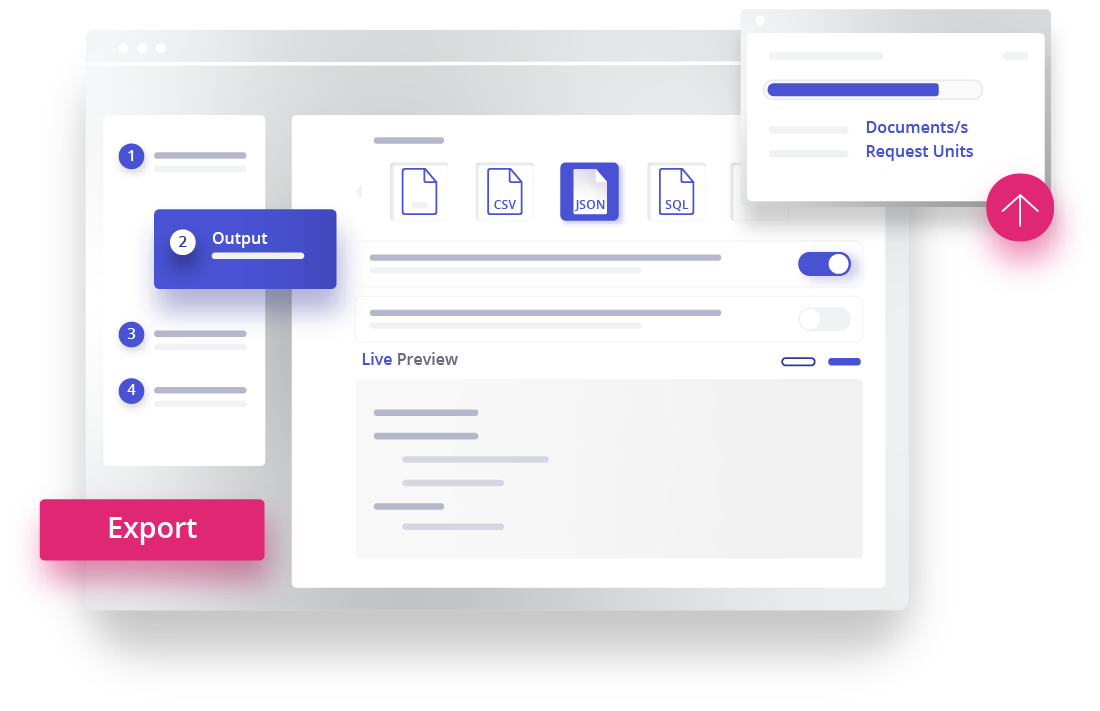 Import and export as JSON, CSV, and Excel
Customize the data format visually​
Preview the data before starting the job​
Support for more data formats including SQL variants​
Immediate, scheduled, and live migrations between containers and whole databases​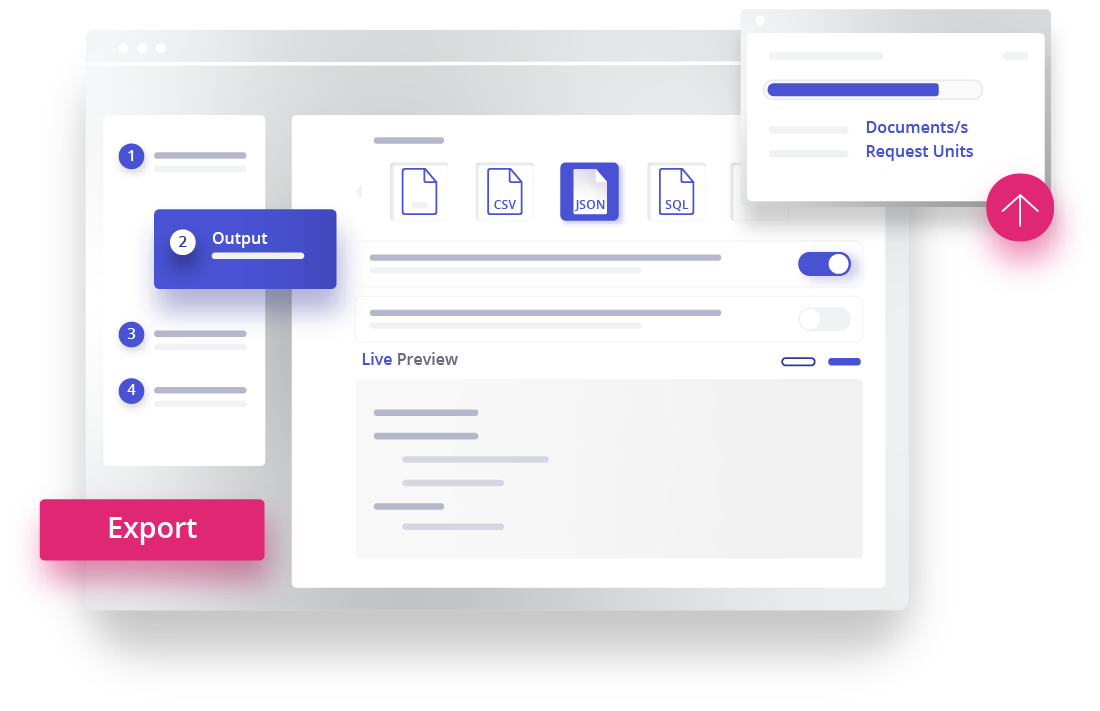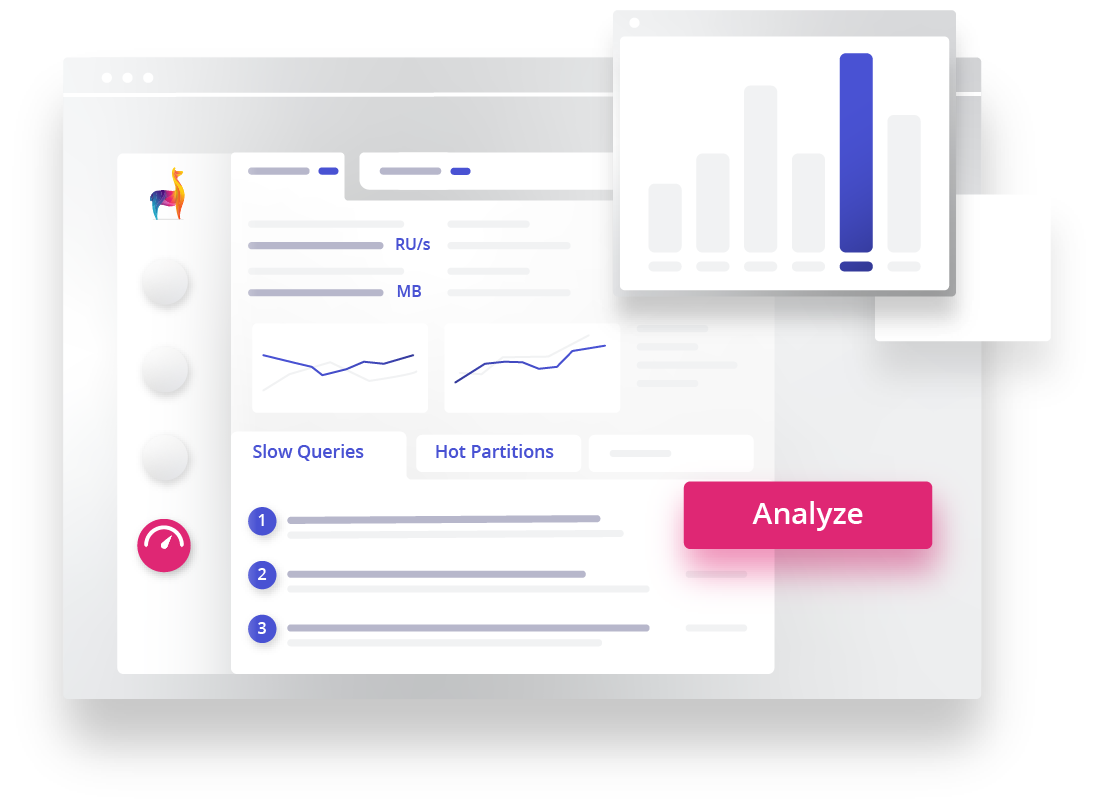 Monitor and tune performance
Alpaqa Studio for Cosmos DB will help you discover and solve performance bottlenecks in your Cosmos DB deployment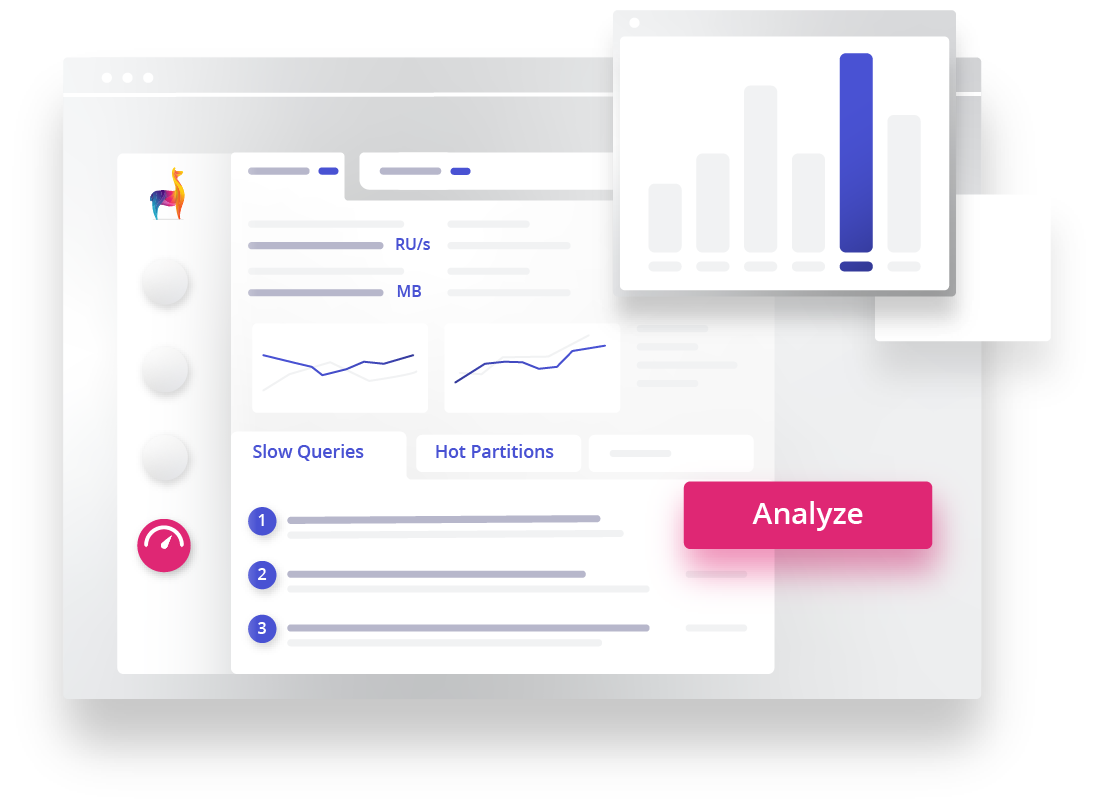 Understand and optimize your Request Units consumption​
Find and analyze slow-running queries at every step, including production​
Identify and optimize hot partitions​
"Alpaqa Studio is the most exciting tool I've seen for working with Azure Cosmos Data! Its graphical interface for constructing queries makes it easy to create complex logic, and the way it surfaces the schema to see and understand your data structure is amazing!

An absolute MUST HAVE for any relational developer learning Cosmos!"
"This tool is AWESOME. I LOVE LOVE LOVE IT. Thank you for building it. This is an excellent DBA tool.

I'm sure this tool will grow into the only tool Cosmos developers use in the future."
Why choose Alpaqa Studio for Cosmos DB?
Professional GUI saves over 20% of your team's working time, frees them up for higher value work
Visualize, manage and edit all your data in place, getting new starters up to speed faster​
Easily manage users and permissions for maximum control of data access.​
Full compatibility with current and legacy releases of Cosmos DB so your investment is fully secure.​
Replace complex and bug-prone SQL scripting with fast point-and-click commands to minimize errors​
Preview results of complex or slow operations, stop jobs before they run, and manage your costs down​
Try out Alpaqa Studio for Cosmos DB
Free trial for 14 days, no credit card required.
Alpaqa Studio for Cosmos DB makes it easy to visualize, query and modify data in Cosmos DB. It's a development space that is easy to work in, built with usability and speed in mind. We think it makes database development and management an actual pleasure instead of a chore.
We are a strong team and growing*, founded as a remote-first company, with offices in Berlin and Warsaw. Between us we have over twenty five years experience of building software tools and bringing them to market. Our customer support comes directly from the developers who create the tool so we can solve any problems fast. Because we follow evergreen release management, you can be sure we will always support the latest version of Cosmos DB.
*If you are interested in joining Alpaqa Studio, please drop us a line at jobs@alpaqastudio.com